LTAD Overview - OLD
---

Water Polo for Everyone!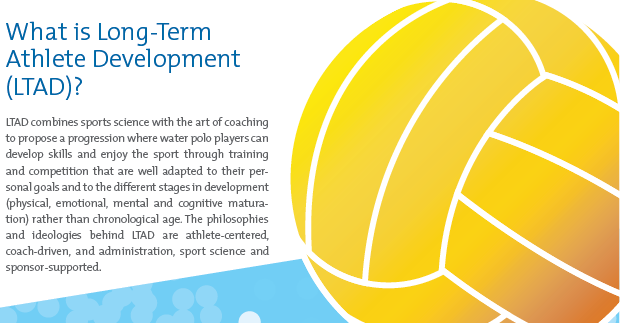 Read and share the new Quick Guide to continue learning about LTAD and its implications for water polo. In this useful tool, you will find:
General information about LTAD

Benefits for different participants

Highlights of the recommendations made for each age group (Stage-by-stage recommendations)

Game structure and setup specifications


Summary of the age-appropriate modified rules
You can also view the full LTAD Competition Review Report produced through the Competition Review process which provides detailed information about all items above as well as several others. The LTAD Glossary of Terms contains important definitions used throughout this section and in the referenced documents.

Quick link: Resources and documents
LTAD: A Far-Reaching Approach
LTAD was developed by a group of sport scientists and adopted by the Canadian Government in 2005. It is not reserved solely to high-performance athletes but is, rather, a process that takes participants from the playground to the podium and from the cradle through all the phases of adulthood. The purpose and intention of the LTAD principles and philosophies is to provoke a culture change at all levels of physical activity and sport (i.e. Parks and Recreation, school boards, club sports, Provincial and National organizations, etc.) and in doing so:
Develop a healthier and more active Canadian population beginning with children all the way through late adulthood.
Develop a more efficient domestic infrastructure for high-performance sports in order to achieve best-ever podium results at the World Championships and Olympic Games.

View the CS4L Resource paper: Canadian Sport for Life Resource Paper


Using the Principles of LTAD to Improve Water Polo in Canada

As mandated, and financially supported, by Heritage Canada through Sport Canada, water polo in Canada developed its own LTAD overview document: "The pursuit of excellence and an active lifestyle"

LTAD may have different impacts on various participants based on who they are and what role they play. The level of understanding and need for knowledge will also differ. We have identified various stakeholders in the LTAD process and have provided targeted messages and resources for these people: athletes/parents, coaches, officials and clubs. Furthermore, water polo in Canada will be experiencing some significant and exciting changes related to the LTAD philosophies and principles in the coming years. The process has been underway since the summer of 2011. These changes relate to the competition system for water polo in Canada from grassroots to high-performance and the process is called the Competition Review.The following tools have emerged through this process.
Water Polo's Player Development Model - Play for Life!

The Player Development Model below summarizes the various stages of development in the water polo in Canada LTAD and their implications for participants.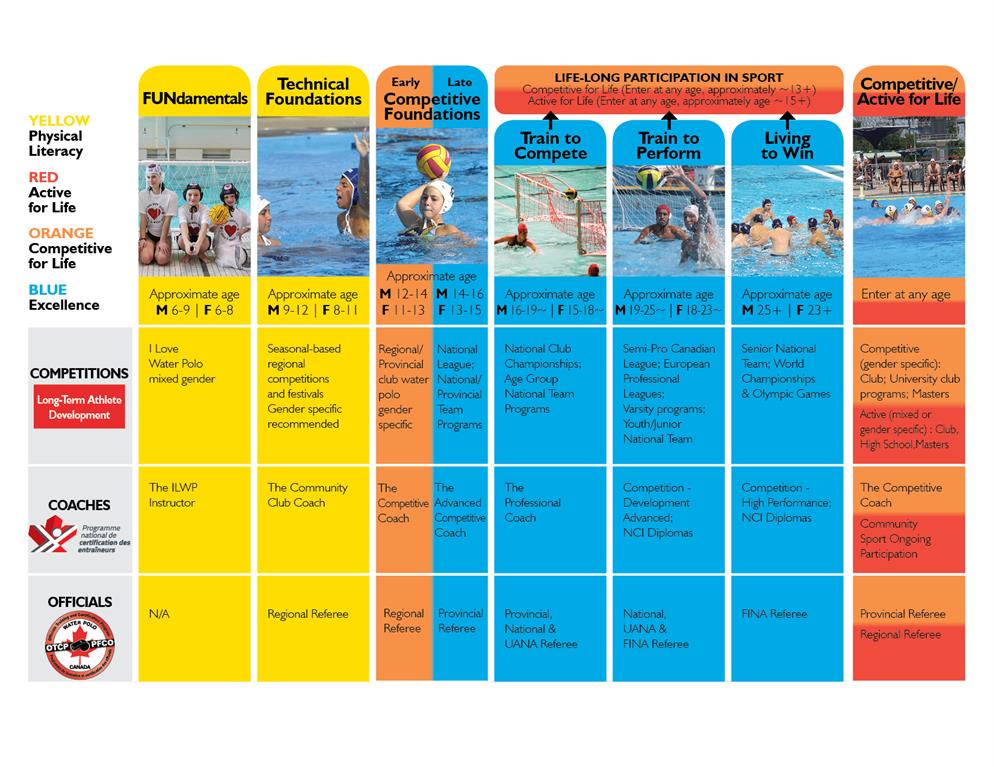 It is important to note that the chronological age is only an approximation and that the developmental age, which includes physical, emotional, mental and cognitive components, determine the stage of development. For example, if an athlete begins playing water polo as an adult they would enter through the Active for Life or Competitive for Life stage. Although emotionally, mentally and cognitively they are adults they may be at a Technical Foundations or Competitive Foundations stage with regards to skill development. Another example is an athlete who is 18 years old and has been playing the sport for a number of years. Although chronologically they may be in the Train to Compete stage, however their skill level, physical abilities and developmental age may actually place them in the Competitive Foundations stage of development. This may not impact which league, tournament and age group as these are determined by chronological age (i.e. 18 and under), however; how this athlete is coached will be different than their peers who are truly Train to Compete athletes.