The inductee of the week, 2003 Canadian Junior Women's Team
---
---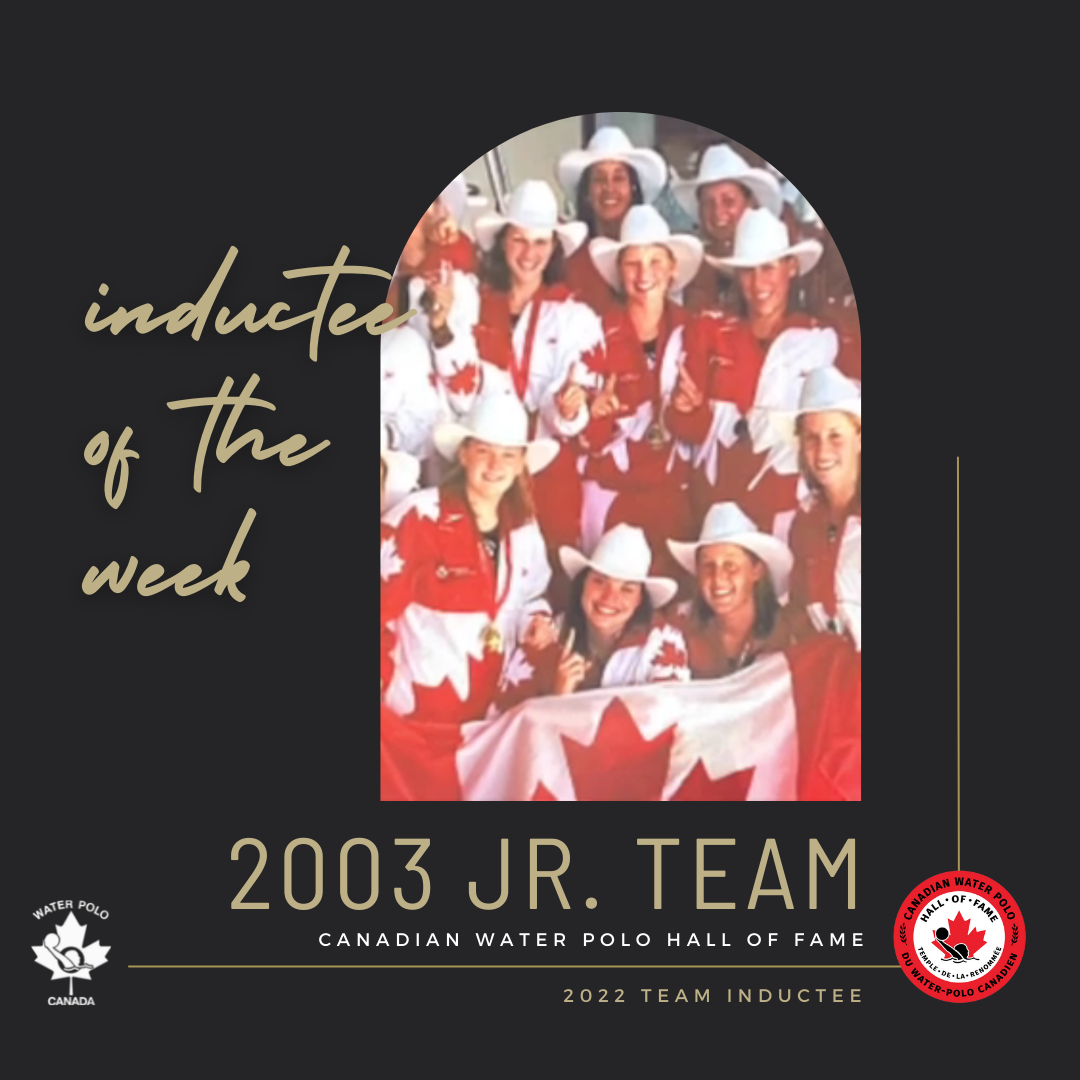 ---
Finally, this week, the Canadian Water Polo Hall of Fame and Water Polo Canada are proud to introduce the last of our 2022 inductees, this time in the Team Category, the 2003 Canadian Junior Women's Team:
"In 2003, the Canadian Junior Women's Team made history by winning the World Junior Championships with a shootout victory over the United States in Calgary. Under the direction of head coach Pat Oaten and assistant coaches Daniel Berthelette and Ahmed El Awadi, the 13-player team captured the only world championship title ever won by a Canadian team. This outstanding group of players included Rachel Riddell, Cecily Morgan Jonker (Vancouver), Kristin Zernicke and Janis Pardy (Calgary), Brooke Zimmerman and Sarah Theriault (Edmonton), Marina Radu, Dominique Perrault, Krystina Alogbo, Rosanna Tomiuk, Katie Little, Tara Campbell and Christine Robinson (Montreal). Many of them would go on to excel at the senior international level."
Water Polo Canada and the Canadian Water Polo Hall of Fame Committee would like to congratulate the 2003 Canadian Junior Women's Team for its induction and thank all the players and coaches for their unique contribution to the history of our sport in Canada. Your exceptionnal accomplishment is cherished by everyone and will always be remembered!
The Hall of Fame Ceremony is planned for MAY 28 at the Downtown Westin in Calgary.
You can donate to the Canadian Water Polo Hall of Fame here:
https://waterpolocanada.crowdchange.co/23436
Thank you!