Call for Bids: 2023-2024 NCL
---
---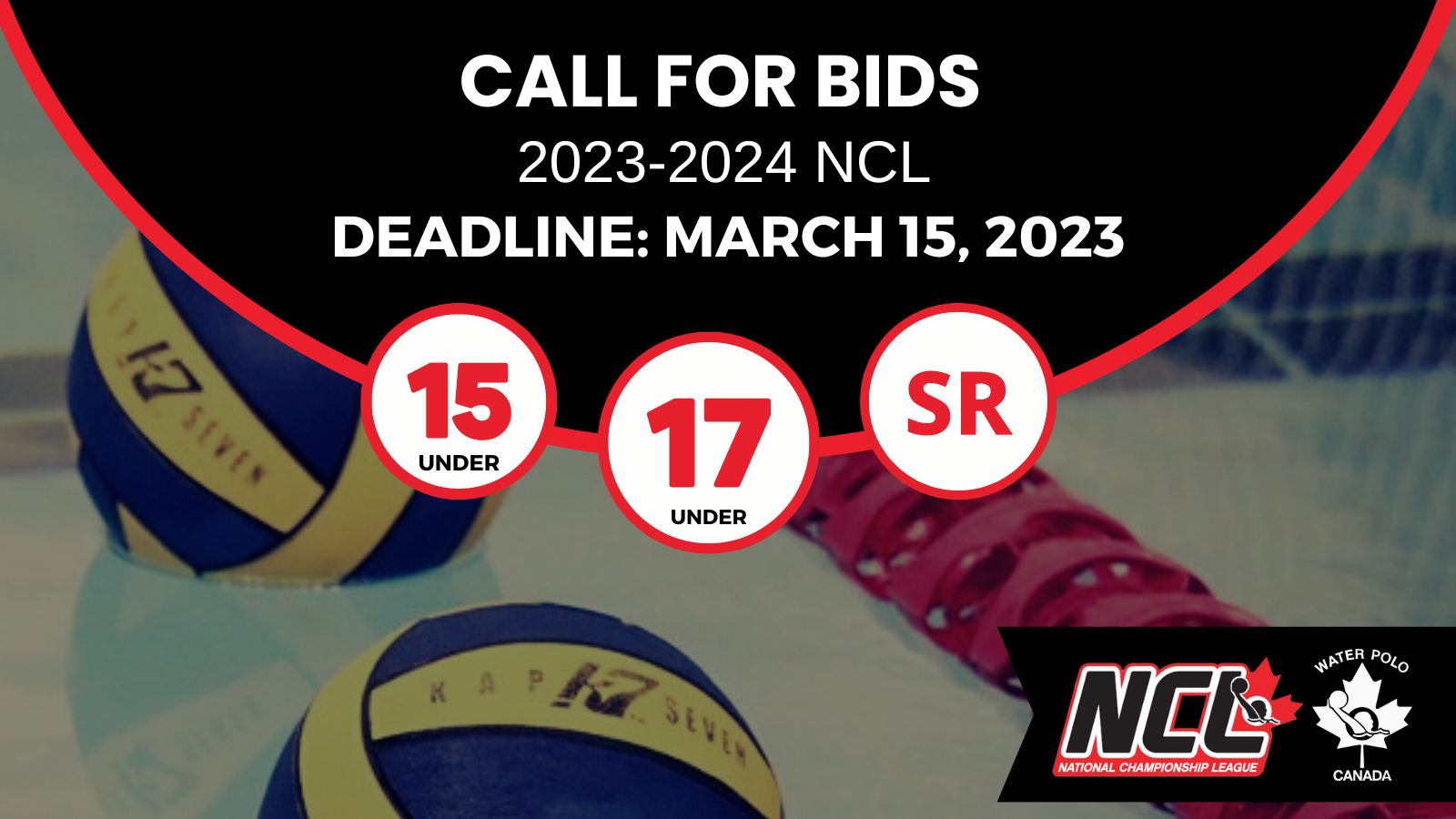 ---
Water Polo Canada is pleased to announce its bid process for the 2023-2024 National Championship League (NCL) season is now open!
---
Bid Documents
15U Events:
17U Events:
Senior Event:
---
Deadline: March 15, 2023
---
Event Descriptions
15U Eastern and Western National Championships
The top 15U teams from each province, as determined by each Provincial Sport Organization, qualify for either the Eastern or Western National Championships depending on their region. The Eastern National Championship and Western National Championship are hosted by WPC in April/May of each year and determine the top 15U team in each half of the country.
17U Eastern and Western Conference Championships
The country is split into Eastern and Western conferences and the standing from each regular season NCL event weekend determine the rankings going into the Conference Championship weekends. These Conference Championship weekends, one for the Eastern teams and one for the Western teams, serve as the qualification for the 17U National Finals weekend with the top four teams from each Conference qualifying hosted in May.
17U National Finals
The top four teams from the Eastern Conference and the top four teams from the Western Conference qualify for either the 17U National Finals hosted by WPC in May. This event determines the top 17U team in the country. This event also contains a Gala component to honour the top teams and individual award winners.
Senior National Championships
The country is split into Eastern and Western conferences and the standing from each event weekend determine who qualifies for the Senior National Championships, where the Canadian champions are crowned.
---
Benefits of Hosting
Increase community involvement
Receive new water polo equipment (water polo balls and volunteer shirts)
Increase awareness, branding and marketability of the sport within your city and province.
Develop partnerships with your city - sell and market water polo to the sport tourism industry.
---
Please email Kelsey Dayler, WPC's League and Events Manager or Andrew Muir, WPC's Senior Manager of Leagues and Pathways at ncl@waterpolo.ca for additional information.