Water Polo Canada announces first inductees into the Canadian Water Polo Hall of Fame
---
---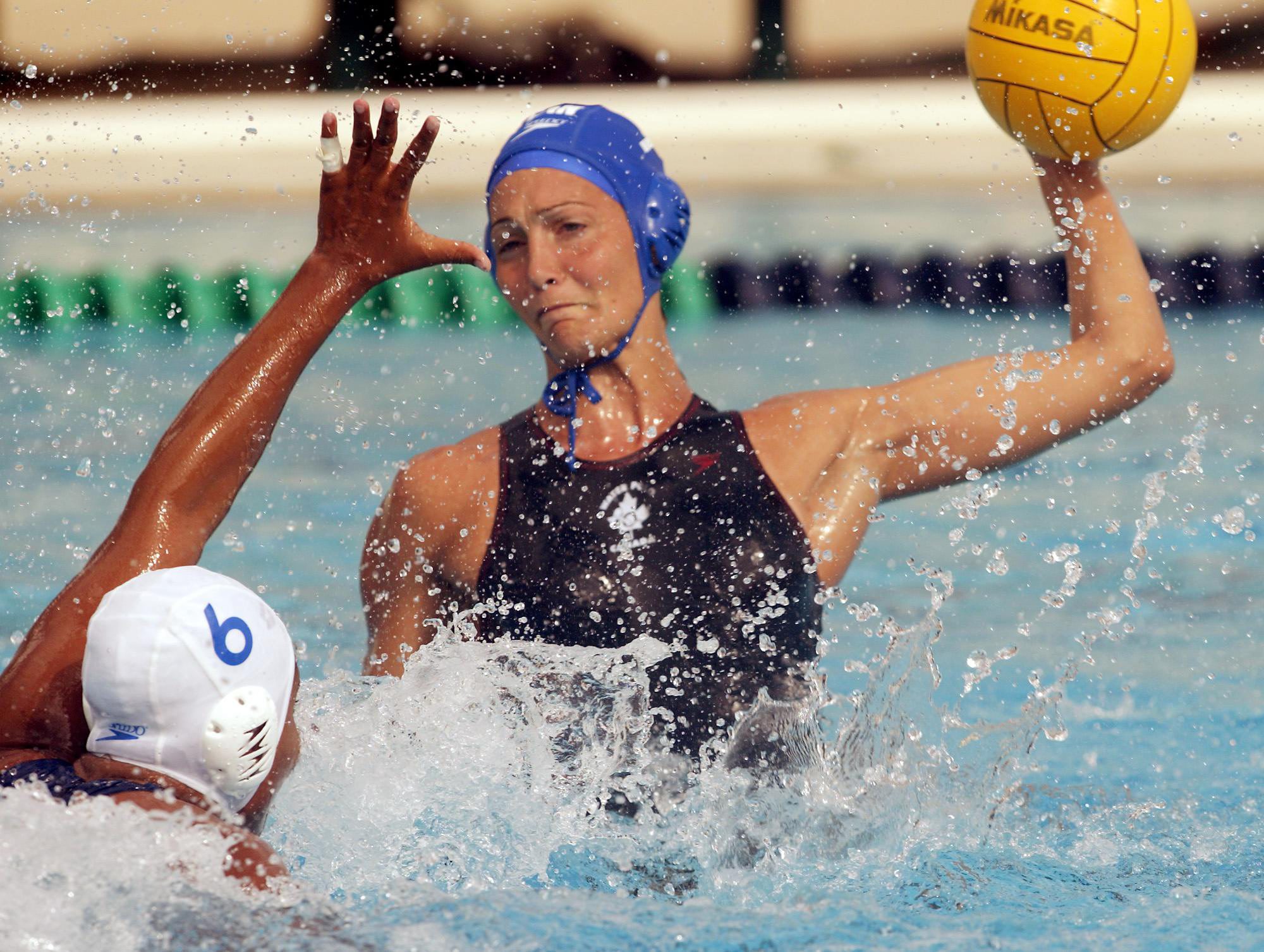 ---
**Photo credit: CP Photo/Frank Gunn
Montreal, January 10, 2022. Water Polo Canada is proud to announce the first class of inductees to the newly-created Canadian Water Polo Hall of Fame (CWPHOF). Eight nominees have been selected in the following categories:
Cora Campbell (Athlete)
Robert Thompson (Coach)
Roy Gunell (Official)
John Stockdale (Builder)
CAMO 1984-1994 (Club)
Canadian Junior Women's Team 2003 (Team)
Frank Medek (Historical Figure)
Jack Gauldie (Distinguished Alumni)
The creation of the CWPHOF is the result of a long-term effort by David Hart and a group of celebrated Canadian water polo personalities in collaboration with WPC. The purpose of the CWPHOF is to recognize former and current athletes, coaches, referees, professional staff and volunteers for their significant contributions to both water polo in Canada and their community at large.
"This is an initiative that is long overdue. We have 136 years of Canadian Water Polo history to celebrate and catch up on. This 2022 group of notable inductees represents the first class of that rich history. We've only begun to scratch the surface", indicated David Hart.
"Water Polo got its start in Canada along the banks of the St. Lawrence river in Lachine, Quebec in 1886, one of the earliest locations in the world outside of the U.K., it's birthplace, and now in 2022 we launch the CWPHOF to honor the athletes, coaches, clubs, teams, builders, officials, historical figures and distinguished alumni who have made an indelible mark on the sport in Canada and abroad", also mentioned David Hart.
Following delays associated with the Pandemic, Kathleen Dawson, President of Water Polo Canada, is thrilled that the CWPHOF will be launched in 2022.
"I would like to congratulate the 2022 class of inductees and look forward to celebrating their accomplishments later this year at the inaugural CWPHOF Induction Ceremony. I also want to thank the Hall of Fame Committee for volunteering their time in support of this important initiative. Their commitment, under the passionate leadership of David Hart, has turned the dream of a Hall of Fame for Canadian water polo into a reality."
The selected candidates will be officially inducted at a ceremony scheduled for May 28, 2022 in Calgary, Alberta in conjunction with the National Championship League (NCL) Finals. More information on all the nominees for the 2022 class can be found here:
Cora Campbell (Athlete): A two-time Olympian, at the 2000 Sydney and 2004 Athens Games, and an assistant coach at the 2020 Olympics, Cora was recognized as one of the most outstanding players in the world in the late 1990s and early 2000s. Cora's international career spanned from 1992 to 2007 with 6 world championship appearances and a gold medal at the Winnipeg Pan American Games in 1999. Cora dominated the Canadian Championships for two decades with the CAMO and Calgary water polo teams. She also played professionally in Italy, helping the Catania club to a championship title.
Robert Thompson (Coach): An Olympic athlete at the 1972 Munich Olympics and a coach at the 1984 Los Angeles Olympics, his Hamilton Aquatic Club senior men's teams competed in 11 consecutive Canadian finals from 1971 to 1981, winning 9 of those 11 Goulden Cup championships, a record that has not been matched since the Cup was first presented in 1907. As head coach of the McMaster University men's team, he also won 17 titles over a 19-year period, another unmatched feat. During the period of 1969 to 1981, Robert set what became the standard of coaching excellence for a generation of Canadian coaches.
Roy Gunell (Official): With an officiating career that spans 43 years (1963-2006), Roy's impact on the Canadian and international scene as an official is one of the most significant in Canadian water polo. Roy officiated at the 1984 Los Angeles and 1992 Barcelona Olympics while racking up over 150 international matches with additional appearances at World Championships (5), FINA Cups (2), World Junior Championships (3), Pan American Games (3) and World Student Games (6). Roy has served on national and international officiating committees, helping to advance the education and training of generations of young officials.
John Stockdale (Builder): John's water polo career spans 7 decades from 1966 to the present. His influence on the sport has been enormous at the local, provincial, national and international levels in a wide variety of capacities: coach, mentor, NCCP speaker/author, technical director, volunteer and board member. As a coach of BC teams, he has won over two dozen Canadian titles at every conceivable level for both men and women. John has served as an assistant coach for both the senior men's and women's national teams, a unique position in Canada. He is one of the few figures in Canadian water polo to have achieved legendary status.
CAMO 1984-1994-Era (Club): Under the leadership of coaches Daniel Berthelette and Robert Couillard, the Montreal CAMO Water Polo Club won an unprecedented 32 Canadian titles during the 1984-1994 period (1 senior men's gold, 8 senior women's gold, 4 junior men's gold, 10 junior women's gold, 3 youth men's gold and 6 youth women's gold). CAMO's impact on national team programs has been fundamental, helping to propel athletes and coaches to the international level at the 1984 Los Angeles Olympics, the 1986, 1991 and 1994 World Aquatic Championships, the 1987 and 1991 Pan American Games, the 1987, 1989, 1991 and 1993 World Junior Championships.
2003 Canadian Junior Women's Team (Team): In 2003, the Canadian Junior Women's Team made history by winning the World Junior Championships with a shootout victory over the United States in Calgary. Under the direction of head coach Pat Oaten and assistant coaches Daniel Berthelette and Ahmed El Awadi, the 13-player team captured the only world championship title ever won by a Canadian team. This outstanding group of players included Rachel Riddell, Cecily Morgan Jonker (Vancouver), Kristin Zernicke and Janis Pardy (Calgary), Brooke Zimmerman and Sarah Theriault (Edmonton), Marina Radu, Dominique Perrault, Krystina Alogbo, Rosanna Tomiuk, Katie Little, Tara Campbell and Christine Robinson (Montreal). Many of them would go on to excel at the senior international level.
Frank Medek (Historical Figure) Frank arrived in Canada in 1952 as a refugee from the former Czechoslovakia. His impact on water polo during the crucial transition period of the late 1950's and 1960's was among the most significant of any figure in the sport. Frank, a true visionary, was one of the key builders of the Canadian champion water polo teams at the Snowden YMHA, the East End Boys Club and Concordia University in Montreal. He made key business contacts that helped generate funds for international events, sending teams to Europe and hosting foreign teams. Frank became the first President of the modern era Canadian Water Polo Association and led the selection committee for the first ever men's national team to compete at the 1963 Pan American Games. Frank's visionary approach helped propel Canadian water polo into its current era.
Dr. Jack Gauldie (Distinguished Alumni) Dr. Gauldie represented Canada at the 1972 Munich Olympics and the 1967 Pan American Games in Winnipeg. He won several Canadian titles with the Hamilton Aquatic Club and served on the Board of Directors at the local, provincial and national levels for many years. His achievements as an immunologist in his post water polo career propelled him to the highest international level. He was awarded the Order of Canada in 2018. As an immunologist and expert in the field of gene therapy, his studies have had an international impact and have led to several clinical treatments, including cancer vaccines. He is the recipient of numerous prestigious awards for his work in the Department of Pathology and Molecular Medicine at McMaster University.
Pictures of the new inductees are available on demand.
Nominations for the 2023 CWPHOF Class of Inductees will open in November 2022.
-30-
Luc Beaudin
Communication Manager
Water Polo Canada
514-518-8952