The Canadian teams for the 19th FINA World Championships Budapest 2022
---
---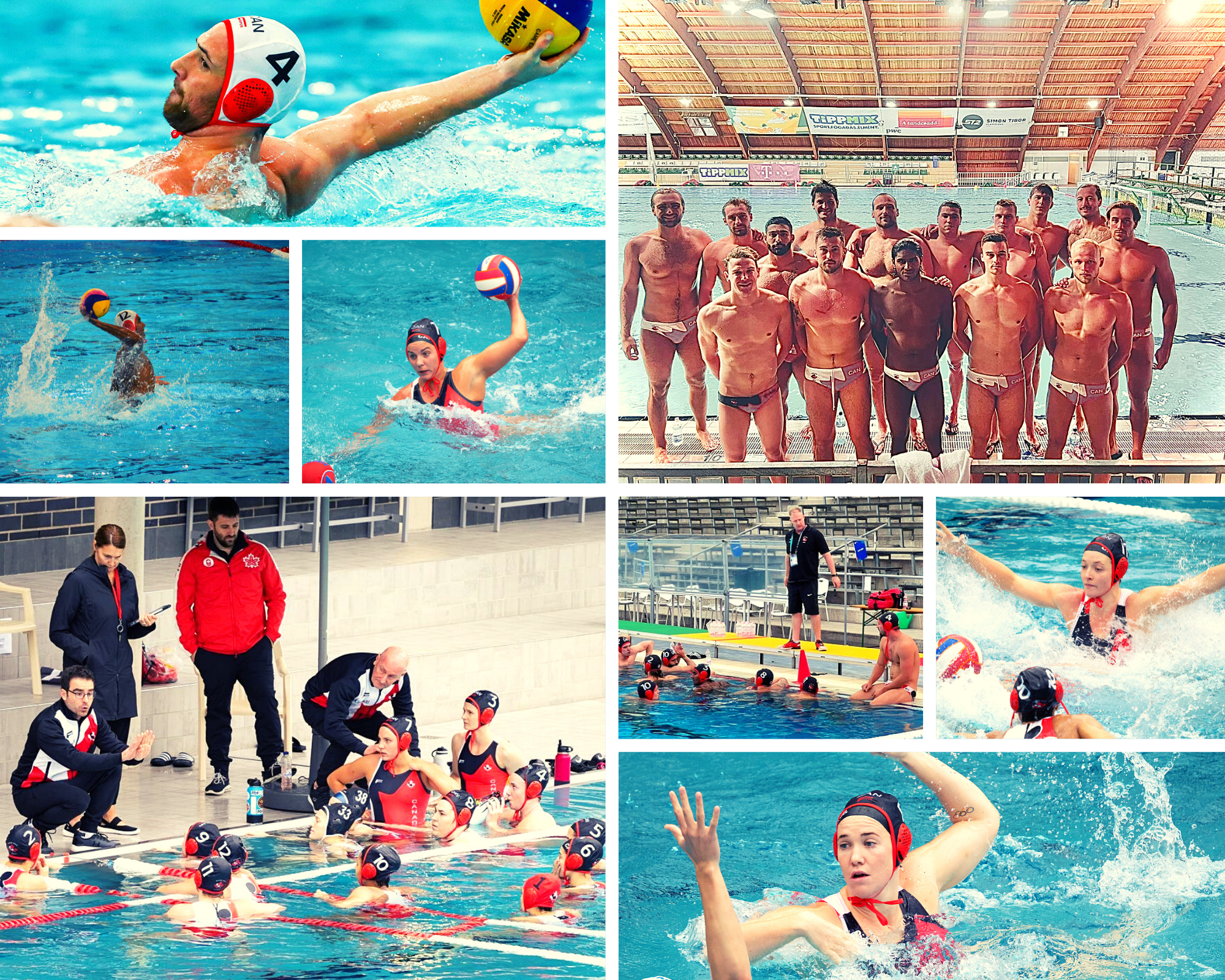 ---
Montreal, Thursday, June 16th, 2022. Water Polo Canada is pleased to announce the two groups of athletes and coaches who will represent Canada at the 19th FINA World Championships Budapest 2022 from June 18 to July 3.
More than 14 female and 14 male athletes will compete for Canada at these World Championships. For the first time since 2017, Canada has successfully qualified both of its national teams.
The Canadian women, who finished 4th in Budapest in 2017 and 9th in Gwangju, South Korea in 2019, earned their ticket to the Hungarian capital in 2022 thanks to their 7th place finish at the Tokyo Olympics last year.
The women's team is currently in Greece where it continues its preparation. They will head to Budapest on Saturday:
"The team is finalizing its preparation for the World Championships and we had a good outing a few days ago in Utrech, Holland, against the Dutch, the defending Champions of the European World League. In the end, they won by a small margin, but it was extremely positive because it was the first time our whole team was together since the Tokyo Olympics. It's very encouraging," said Canadian Team Head Coach David Paradelo.
This is the 15th time the women's team has competed at these championships since 1986. They have been to every world aquatic championship since their inception. Canada's medal record in the women's event includes 2 silver and 2 bronze, the last one being a silver in 2009.
The Canadian women's team opens the tournament on Monday June 20th against Italy at 1:30 pm ET.
The Canadian men's team is making a return to the world championships after an absence from the competition in 2019. The Canadians earned a ticket to Budapest with a stellar performance at the Intercontinental Cup in Lima in February, finishing 4th. The Canadians are currently in Budapest to continue their preparation:
"Returning to the World Championships for the first time since 2017 is an exciting opportunity for the team. This tournament will allow us to showcase our skill level in comparison to the other teams around the globe. I have the privilege of coaching these elite athletes for just under a year and am excited to see how we will stack up when in competition mode. We are approaching this journey, one game at a time, playing together as a team while focusing on our individual roles and responsibilities," said Pat Oaten, the Canadian men's coach.
This is the 17th time the men's team has competed at the world championships since their inception in 1973 and the Canadian men's best result was an 8th place finish in Rome, Italy in 2009.
The Canadian men's team begins their tournament on Tuesday at 1:30 pm EST against Spain.
---
Here is the list of selected athletes, coaches and support staff for the women's team at the 19th FINA World Championships Budapest 2022:
Players:
| | |
| --- | --- |
| Hayley McKelvey | Shae La Roche |
| Verika Bakoc | Gurpreet Sohi |
| Rae Lekness | Emma Wright |
| Kindred Paul | Jessica Gaudreault |
| Clara Vulpisi | Axelle Crevier |
| Kyra Chrismas | Amanda Amorosa |
| Kelly Mckee | |
Alternates:
Blaire McDowell
Serena Browne
Daphne Guèvremont
Coaches:
David Paradelo, Head Coach
Cora Campbell, Assistant Coach and Team Manager
Stefano Posterivo, Assistant Coach
Support Staff:
Félix Croteau: Medical Chief
Manon Prieur: Massage Therapist
---
Here is the list of selected athletes, coaches, and support staff of the men's team for the 19th FINA World Championships Budapest 2022:
Athletes:
| | |
| --- | --- |
| Nicolas Constantin Bicari | Brody McKnight |
| Jérémie Blanchard | Gaelan Patterson |
| Jérémie Côté | Milan Radenovic |
| Reuel D'Souza | Maxime Schapowal |
| Bogdan Djerkovic | Aria Soleimanipak |
| Aleksa Gardijan | Sean Spooner |
| Matthew Halajian | |
Alternates:
Jason O'Donnell
Patrick Almasi
Coaches:
Patrick Oaten, Head Coach
Gyula Toth, Assistant Coach
Support Staff:
Rodrigo Rojas, Team Manager
Sunny Marshall: Athletic Therapist