Senior Men's National Team
---
Program Description
The Canadian Senior Men's National Team is currently led by High Performance Director Olivier Pineau, Head Coach Patrick Oaten and Assistant Coaches Brian Parillo and Gyula Toth as well as Team Manager Laurence Melancon. The team is centralized in Montreal, Quebec at the Institut National du Sport du Québec.
In 2019, the Senior Men's National team was awarded a silver medal after competing against the United States in the gold medal game of the 2019 Pan American Games in Lima. They also earned a bronze medal at the 2019 UANA Cup as well as at the 2019 Intercontinental Cup. In 2019, they also competed at the 2019 FINA World League Super Final in Belgrade, Serbia where they finished 8th.
In 2017, the Senior Men's National team earned a silver medal at the 2017 UANA Cup, in Trinidad and Tobago. By finishing in second place, the Canadian men qualified for the 2017 FINA World Aquatic Championships, in Budapest, Hungary. At the World Championships, Canada would finish 15th.
Canada's men earned the bronze medal at the 2015 Pan American Games in Toronto. In their main competition in 2014, they were awarded 6th place at the FINA World League Super Final, in Dubai, in June. As of August, 2, 2014, the Canadian men's team was ranked 12th in the world, according to FINA's water polo world rankings.
Canada hosted the 2013 UANA Cup in Calgary in January/February, which was the FINA World Aquatic Championships qualifying event for the Americas. Canada and the USA both qualified in Calgary for 15th World Aquatic Championships taking place in Barcelona (ESP) in July 2013. Canada eventually placed 11th at these FINA World Championships.
The Canadian Men's Team lost a thrilling 10-6 game to Greece in Edmonton (CAN) in March of 2012 and thus did not qualify for the London Olympics.
Some of the team's previous accomplishments were an 8th place finish at the 2009 FINA World Aquatic Championships, which was the first time the program ever finished in the top 8 at a major international event. The team also finished 11th at the 2008 Olympic Games. This was the team's first ever qualification for the Olympic Games. The only other times the men's team participated in the Olympic Games was in 1972 in Munich, 1976 in Montreal, and 1984 in Los Angeles.


For information about the history of water polo in Canada and the Canadian Men's National Team please visit the section History of Water Polo in Canada . Please click here to view Team Canada's Historical Results at all major FINA events.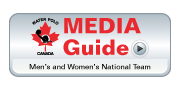 Please click the image above to view the National Team Media Guide